Here we are. Right in the thick of it. As moms, we are as happy as we've ever been as we watch our little ones grow and thrive. But, at the same time, we are tired, always "on" and can also feel like we are losing ourselves. Even with our time to ourselves at a minimum, there is always something I make sure I do at least once a year….make time to get away with my oldest and dearest friends. And, not just at our neighborhood sushi joint (where our husbands can call us with a few childcare questions per hour…), I make sure to get AWAY with my girlfriends, where we have to pay at least one toll to get to our destination and where we have to be away at least a full 48 hours for it to be worth it.
So, this year, I called one of my closest girl friends and told her to pack her overnight bag- we were going to Saratoga Springs, NY….aka Spa City. Sounds like the perfect place for a moms weekend getaway, right? Ohhh, it was.
Stately (and old fashioned, in the best way possible) accommodations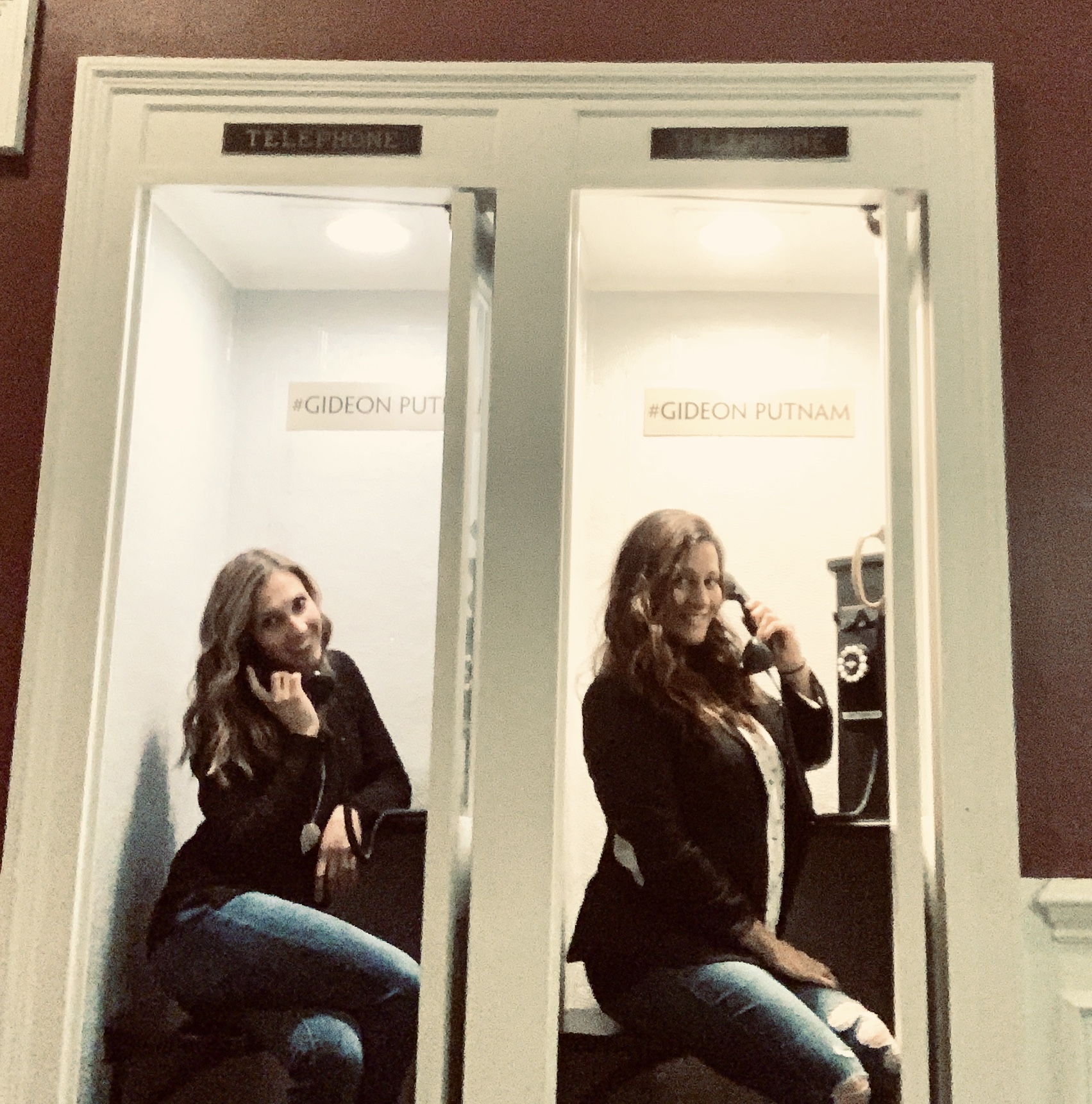 We arrived in upstate NY after a quick 3 hour drive (seriously, it goes quick when you are actually able to speak to each other in complete, non kid interrupted thoughts!) and pulled into Saratoga Springs State Park, where our hotel was located. We were hosted at the gorgeous Gideon Putnam. This hotel is a classic, stately property right smack in the middle of the state park. Arriving there instantly made me feel like I was on vacation….but, maybe in a different, more elegant time. It was such a welcome change from the modern chain hotels that we are usually used to staying in, and just walking around the lobby taking in (and taking pics of) all of the historic details was a good time. The hotel was recently renovated and the Standard rooms are comfortable and modern, but still hold on to the historic feel of the property. If you are visiting during warmer weather, check out the Premium Porch suites as an upgraded option. The sunrooms are just beautiful and incredibly unique, and would be a perfect place for a special occasion celebration!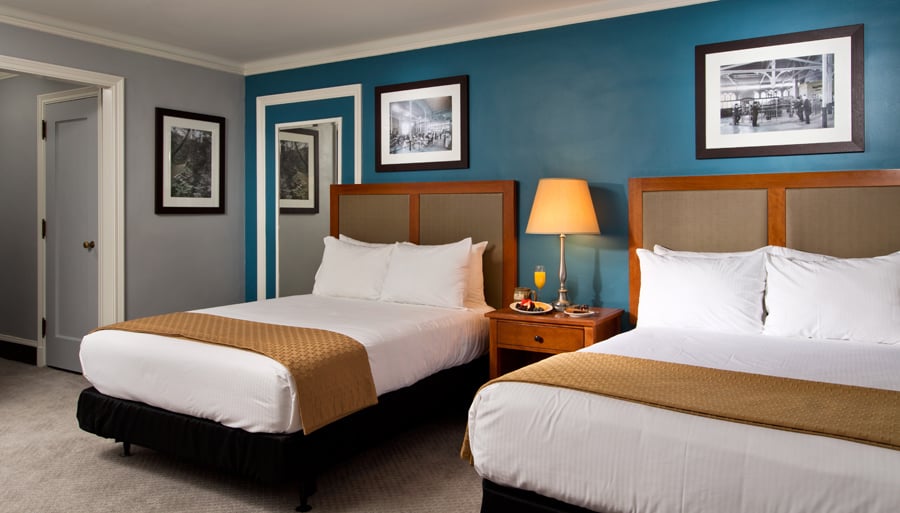 We visited the Putnam's bar for a welcome cocktail and headed up to our well appointed room for a nap…..yep, we party hard. That nap was so indulgent and much needed as a busy mom and we both reveled in the fact that we could relax on our own schedule. The state park offers dozens of beautiful walking trails, and even a chance to sample the actual mineral springs that are said to have healing properties. Warning- the majority of them taste pretty nasty, but it made for a lot of fun conversations and a ton of laughs!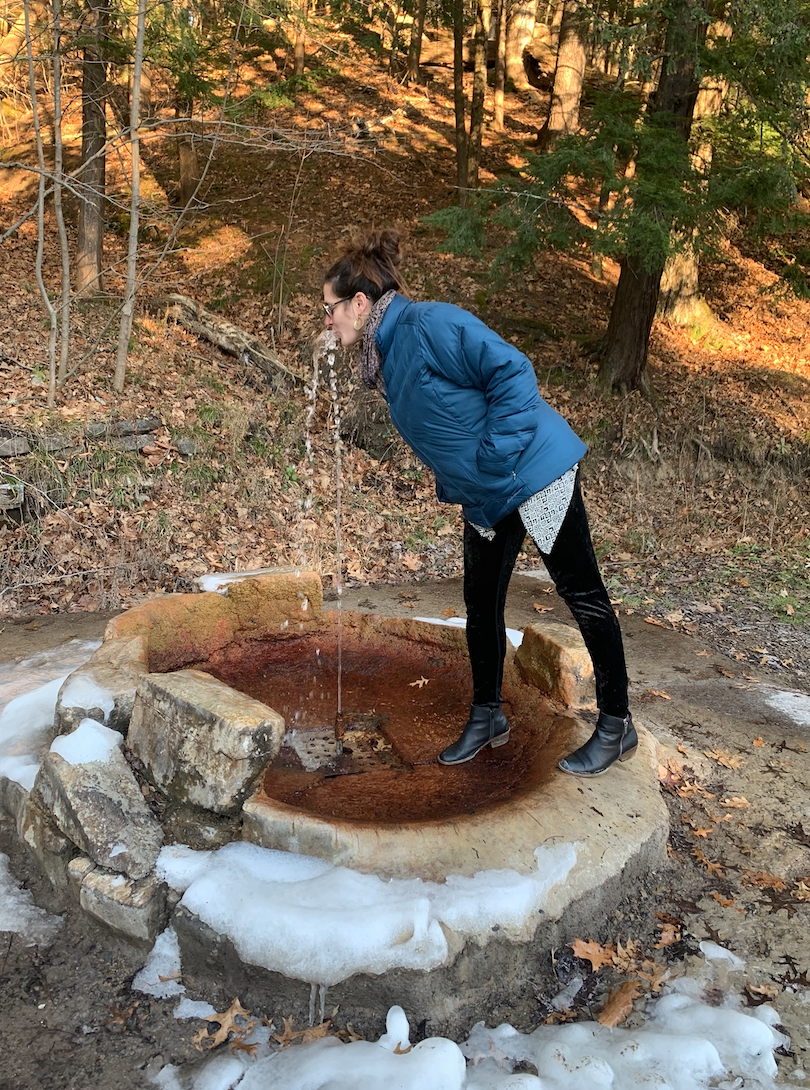 During the summer season, you can even catch a concert at the Saratoga Performing Arts Center, which is also walking distance from the Gideon Putnam. The resort also has programs like glass blowing available in the warmer months.
A new addition to the resort's amenities is that they offer free breakfast with every room reservation! This is super convenient, since you'll likely be headed to the spa or out on the grounds for some fun, relatively early in the morning.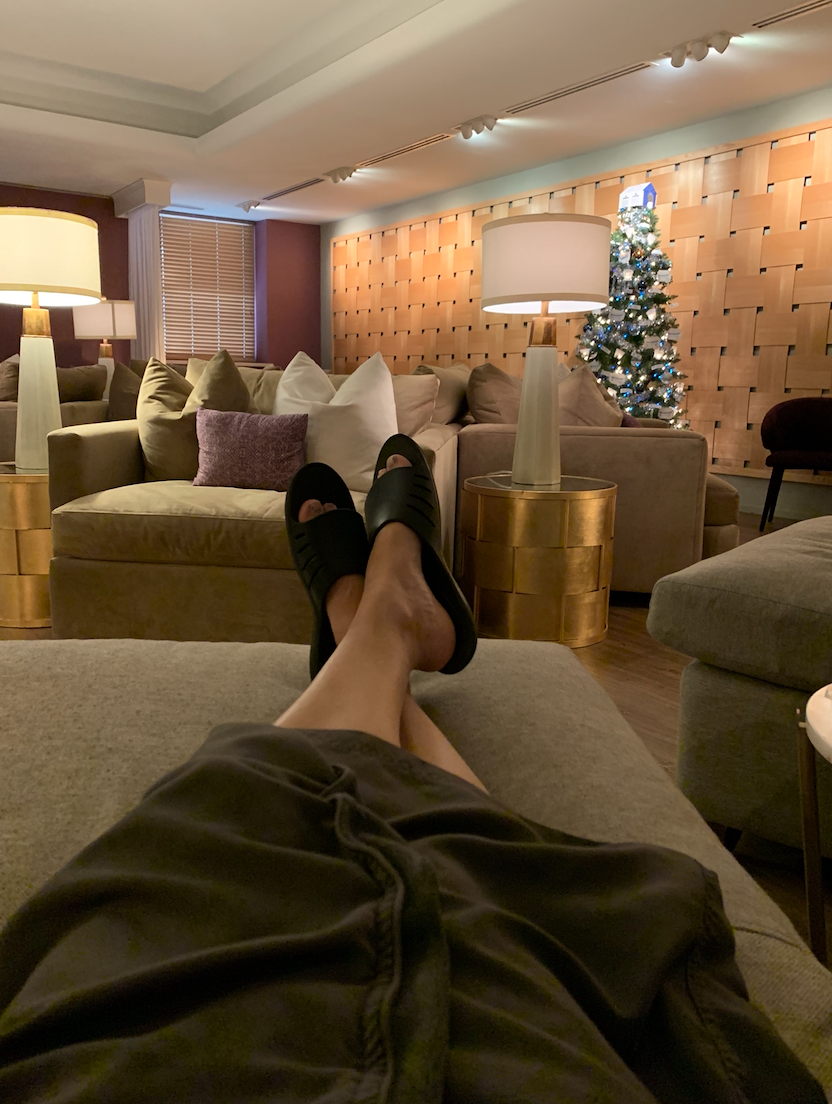 Another incredible feature of the Gideon Putnam property, is the nearby Roosevelt Baths and Spa. Going to the Roosevelt Baths and Spa for our scheduled massage and mineral bath appointment was an experience that is a must while visiting! The spa was established in 1935 thanks to President Franklin Roosevelt's visionary act to preserve the Saratoga Springs area. Now, a full service spa, the Roosevelt Baths and Spa offers everything from massages, to facials to body treatments. We knew we wanted to try a signature mineral bath soak, and we were not disappointed. My perfectly temperatured, effervescent mineral bath (infused with my chosen Eucalyptus essential oil) in a beautiful, soaking tub (that drops a few inches below the ground) left me incredibly relaxed and my skin soft. A major highlight in the Roosevelt Baths and Spa is their relaxation room. It was beautiful, and a place that you could continue relaxing while sipping a cup of complimentary tea for as long as you'd like after treatments. A glass of wine or local cheese platter can be ordered as a light snack while relaxing as well.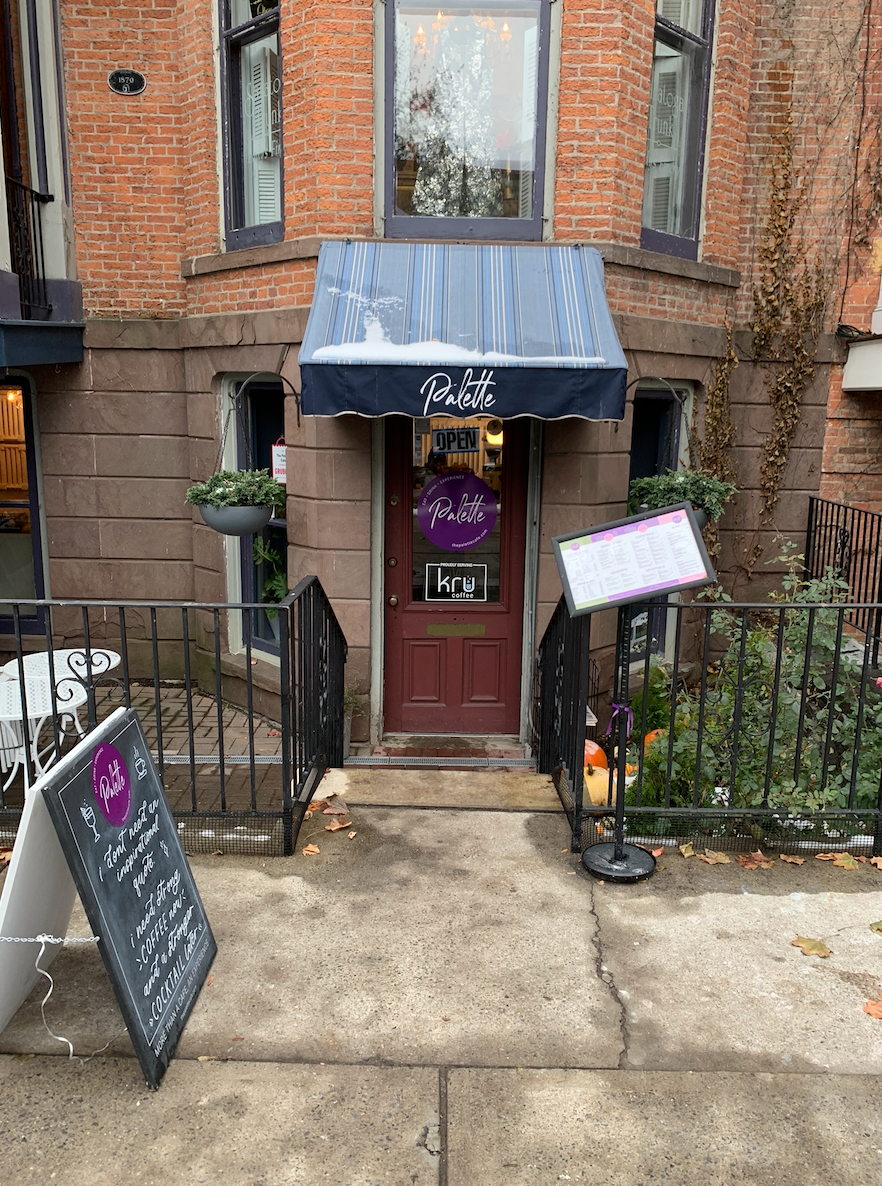 The Gideon Putnam has a shuttle that runs into downtown Saratoga Springs, so our car stayed in the hotel parking lot the entire weekend. We ventured into the adorable town for some boutique shopping and lunch at the equally eclectic and delicious,
The Palette Cafe.
The Palette Cafe is part art gallery (with art from local women artists), part coffee shop, and part perfect place to have a champagne cocktail and delicious lunch. The vibe is super laid back and the staff follows suit, and we just had an awesome time hanging out there. We opted for the empanadas, cheese & charcuterie platter, and homemade veggie soup for our lunch and it was perfect amount of food for noshing and chatting the afternoon away. If you have to get some work done while on your getaway (booo, hissss), The Palette Cafe has work spaces to reserve (and good wi-fi) that one of their yummy maple latte's would pair perfectly with.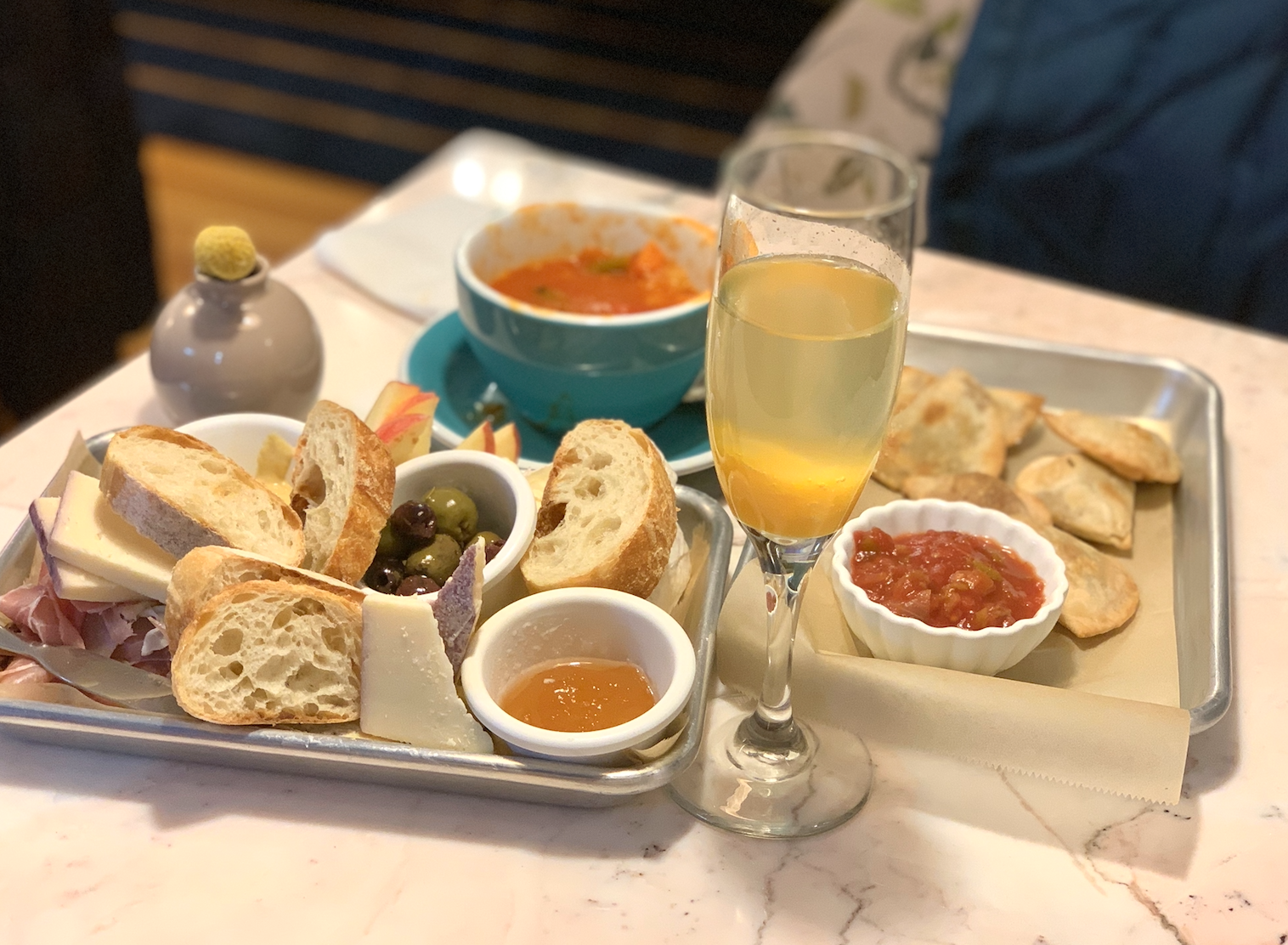 So, have you booked your own mom's getaway weekend yet? Make 2020 the year that you start this awesome tradition. You deserve it!
*We were hosted by the venues mentioned in order to write this All thoughts and views are completely my own.