Alas, I've found a way to cease the bickering amongst the children! Recently appointed as Lords after our hosted visit to Medieval Times, they've become chivalrous, and developed Spanish accents! I'm sure it won't last, but I'll certainly enjoy it while it does! My whole family enjoyed our experience at the Lyndhurst Castle – we had visited the castle a few years ago, when my kids were younger, so we were excited to see their reaction now that they were older, and there was a new storyline for the show!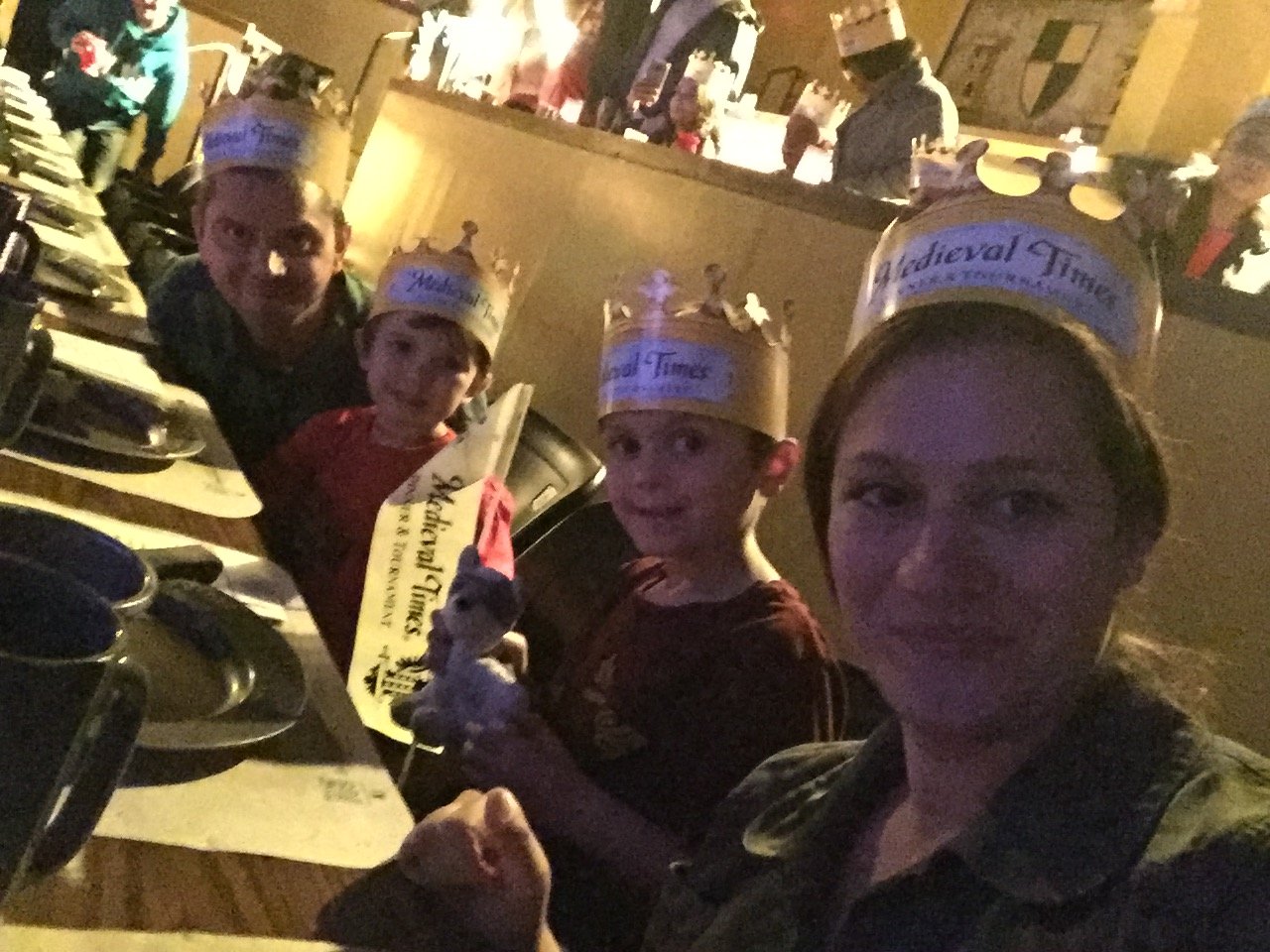 The show has traditionally cast the King in the lead role, but earlier this year the entire production was given a face-lift and the Queen is now at the helm! All the jousting, fighting, swordplay and horsemanship still play a central role in the show (which lasts about 90 minutes) and the 4-course feast was as delicious (and we had enough to take home in doggie bags for the next day ). We arrived early as suggested, and there was plenty to keep everyone amazed as we walked about the castle. Assigned to the yellow team, we took our assigned seats and tirelessly cheered on our yellow knight as he battled in the arena. To the kid's dismay, our knight did not win the challenge, but this Mom feels victorious nonetheless. After all, an enjoyable night out that entertains the entire family is hard to come by, especially in this age of electronics. It seems a trip back to Medieval Times was just what we all needed!
If you'd like to enjoy a visit to Medieval Times, we have a special discount offer for you. Use the code NJBlog36 to get tickets for $36.95 (adults) and $30.95 (kids). These discounted prices are good through December 31st, 2018, excluding the last seating on New Year's Eve. For more info, or to purchase tickets, visit: https://www.medievaltimes.com/plan-your-trip/lyndhurst-nj/index.html
Details
Code: NJBlog36
Exclusive Price: $36.95* for adults and $30.95* for kids (*plus tax and processing)
Save up to $26 per person! General admission is normally $62.95 for adults and $36.95 for kids.
Includes: Two Hour Tournament • Four Course Feast • Magnificent Pure Spanish Horses • Authentic Sword Fights and Jousting
Valid through: 12/31/2018, excluding the late NYE show.
Restrictions: Must mention or enter code NJBLOG36 at time of purchase. May not be combined with any other offer or group rate. Tax, gratuity, and applicable fees are additional. Not valid on prior purchases. Not valid for the late NYE show. Valid at the Lyndhurst location only for shows through 12/31/2018.
Dec. 9 Giveaway: 2 tix to Medieval Times in Lyndhurst
To enter:
1. Fill out this FORM
2. Give this link or the Facebook post about this giveaway a share so all your friends can enter too!
This giveaway ends on 12/10/18 at 9am. A winner will be chosen at random at that time and posted on our Facebook page. Winner will be contacted via the email address provided and will have 24 hrs. to respond before we move on and pick another winner. No purchase necessary to win. One entry per person, per giveaway. By entering this giveaway, you will be automatically added to the free Macaroni Kid West Morris newsletter. Good luck & happy holidays!