A much needed Moms night out was attained this past weekend, and totally by mistake - my HUSBAND's mistake that is! What was originally planned as a date night turned into girls night when my hubby "forgot" to add a potential work trip to our shared calendar (I cannot be the only one this happens to, right?). Said work trip came to fruition at the last minute, leaving me scrambling to keep my reservation at a restaurant I'd been dying to try. Luckily for me, Elisa was available, and since the dinner date was to review our restaurant of the month, The Black Horse Tavern, she was happy to come along.
The restaurant did not disappoint!
The Black Horse Tavern is located in the heart of Mendham, N.J. Originally a stage coach house in the mid-1700s, today the Tavern embraces the traditions of fine dining with exceptional hospitality, a historic restaurant setting and a focus on modern American cuisine using local produce and products from purveyors throughout the tri-state area.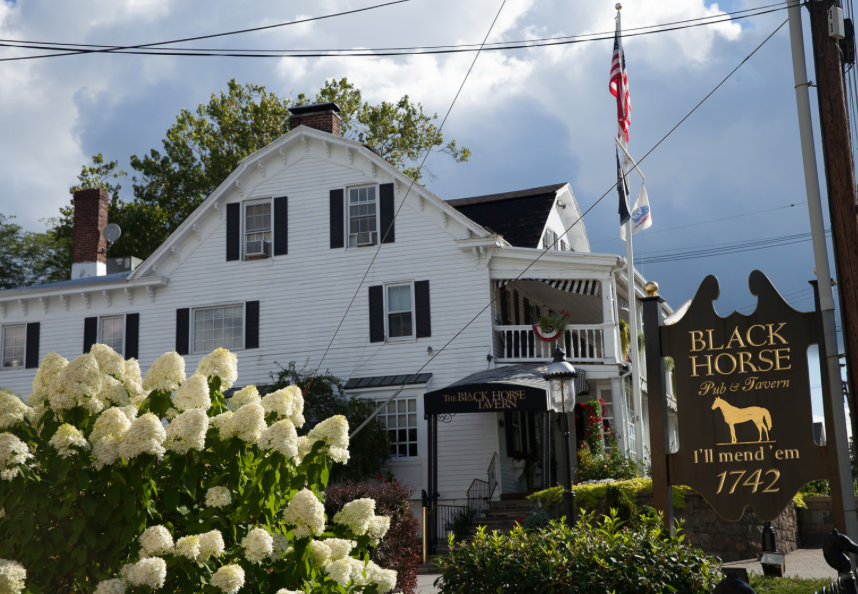 From the minute you pull up to the free valet, to the end of your meal, the staff is welcoming and attentive. We started the evening at the bar, which is small but appropriately sized for the establishment. I opted for the Sangria-Rita, which was delicious, while Elisa had a glass of wine. For dinner, we were seated on the enclosed patio, which was sooooo cozy and I highly recommend you asking for a table here! The old pane windows distorted the lights from the passing cars and gave the room an almost magical feel. We mused about how it would be the perfect place to spend the evening during a snowstorm (a mild snowstorm that is!).
Our appetizers consisted of French Onion Soup and Prime Rib Mac and Cheese, both of which were delicious and filling. For the main course, I selected the Pub Burger, which comes topped with applewood bacon, sauteed onions, brie cheese and a lemon aioli - it was quite frankly one of the best burgers I've ever had! Elisa had the crab cakes (Do you recall the poll we had on our Facebook page last week? ) They were excellent choices and neither of us could finish! Though we were full, dessert is kind of a must have for both of us! Both being chocolate lovers, we had to ask for the server's recommendation on which concoction we should go with, and she selected the Brownie a la Mode. It was excellent - perfectly gooey and served with a scoop of vanilla (although you have other choices as well).